⭐5 Star reviews
⭐Plastic Surgeon founded
⭐Treatment by leading medics only
⭐Combined 25 years of experience
⭐Complimentary consultation available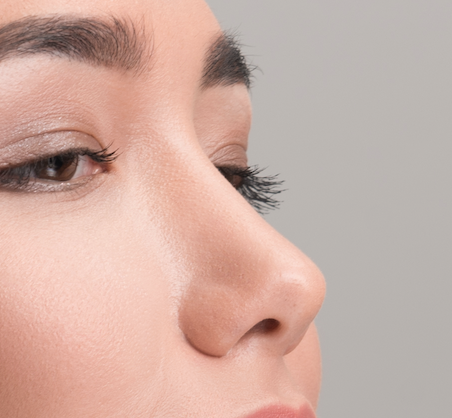 At Injectual, we understand that the nose is one of the most prominent features of the face, and we recognize the impact it can have on your self-confidence. Whether you wish to correct a small bump, enhance the bridge, or achieve a raised nasal tip, our nose job treatment in London is here to help you achieve your desired look.
What is the Injectual Nose Job?
Our non-surgical Nose Job, also known as nose augmentation or a 'non-surgical nose job,' is an advanced medical aesthetic treatment using Hyaluronic based Dermal Fillers. Unlike most injectors who work solely on the bridge, our experts are skilled in a proprietary mix of 4 key points of the nose: the tip, base, bridge, and the precise areas that require reshaping. This unique approach delivers unbelievable results that last up to 18 months.
Key Features and Benefits:
Comprehensive Reshaping: Our Nose Job treatment targets multiple points of the nose, allowing us to correct specific concerns such as small bumps, flat bridges, etc.
Non-Surgical Solution: Avoid the need for invasive surgery with our non-surgical nose augmentation, which involves minimal downtime and a quicker recovery process.
Hyaluronic Acid Fillers: We use Hyaluronic acid-based dermal fillers by Suisse dermal filler brand Maili,, a safe and naturally-occurring substance in the body, to achieve natural-looking and long-lasting results.
Expert Aestheticians: Our team of experts is highly skilled in the art of non-surgical nose reshaping, ensuring precision and stunning outcomes for each patient.
Boosted Confidence: Experience a newfound sense of confidence as you achieve a harmonious and balanced nose that complements your facial features.
Book a Nose Job in London
Ready to enhance your nose and boost your self-confidence? Book your Nose Job at our state-of-the-art London clinic. Our medical team will guide you through the process and tailor the treatment to your unique needs, ensuring you leave satisfied with your enhanced appearance.
Frequently Asked Questions (FAQ)
Yes, the Injectual Nose Job is a non-surgical treatment using dermal fillers, making it a safe and effective option for nose augmentation.
The results of our Nose Job treatment can last up to 18 months, giving you a long-lasting enhancement to your nose's shape.
The procedure is minimally invasive, and most patients experience little to no downtime. You may have some minor swelling or bruising, which typically resolves within a few days.
Absolutely! Our expert practitioners will assess your nose's specific concerns and customise the treatment to achieve your desired results while maintaining a natural appearance.
Results
Giving desired shape to nose.

Return to work
Straight away.

Full recovery:
Straight away.

How Long does it last?
Up to 12 months.

BOOK NOW
Our Injectual Practitioners
What is a non-surgical nosejob? 
A Non-Surgical Nose Job is an advanced non-surgical procedure that can provide a relatively quick (lunch-time) alternative to a surgical rhinoplasty. This treatment involves injecting hyaluronic based dermal filler strategically to the nose, to correct asymmetry, lift and create a better profile. Strangely enough, often by adding filler in these strategic points, the nose will appear much smaller and elegant and can give the illusion that the nose has been shortened, because it is more harmonised with the rest of the face.
What are the risks when it comes to a non-surgical nosejob? 
A non surgical nosejob just like any other injectable treatment is a medical procedure which shouldn't be taken lightly because every treatment comes with some side effects and/or risks. The most common ones are redness, swelling and bruising, which often subside within 24hours. During your consultation, we'll discuss any other potential side effects at length, these can be considerably reduced by sharing your full medical history. Injectual is a safe and non-judgemental space, where everyone is welcome. We've seen and heard it all so please don't hold anything back that might be of importance. 
What is the difference with a surgical nosejob?
The main difference is that a surgical nosejob is obviously permanent and a non-surgical alternative will last upto 18 months. The major benefit from a non-surgical nosejob is that it will provide a noticeable correction and improvement, without the downtime. 
Is a non-surgical solution right for me? 
If you are looking for a drastic result and permanent result, such as fixing a severely crooked or broken nose, a non-surgical one would not be suitable for you. Additionally, if you are looking to correct breathing issues, a non-surgical option is unable to rectify these issues. This can only be achieved with rhinoplasty surgery.
Where are we located? 
Our lovely Westbourne Grove studio is easily reachable by public transport from most central London locations and is located in the heart of the iconic Notting Hill. Most of our clients come from nearby neighbourhoods: Paddington, Hyde Park, Green Park, Bayswater, Soho, Kings Road, South Kensington, Kensington, Chelsea, Battersea, Fulham, Regents Park, Primrose Hill, St Johns Wood, Victoria, Mayfair, Knightsbridge, Belgravia, Fitzrovia, Holland Park, Earls Court, Highgate, West Brompton, Westminster, Islington, Hampstead, Hammersmith, Battersea or Nine Elms
INJECTUAL NOTTING HILL
59 WESTBOURNE GROVE, LONDON
Mon - Saturdays: 10am - 6pm
Directions